The Acting Income Podcast
With Ben Hauck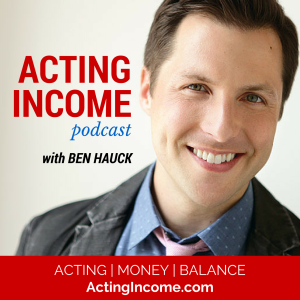 The Only Podcast of Its Kind!
Covering a wide range of topics related to acting, making money, and staying balanced, episodes of "AIP" include tips, insights, interviews, and resources for the professional actor, colored with Ben's own journey in pursuing just that in an expensive city like New York City. Listen online! »
Subscribe on iTunes, Android, Stitcher, and More!
The Acting Income Podcast with Ben Hauck (aka "AIP") is available wherever fine podcasts are downloaded. To have the latest episodes of AIP delivered straight to you as they become available, subscribe! AIP is available on iTunes, Android, Stitcher, … and of course, online at Acting Income.
Current Episode
► Listen to this episode | Published: April 26, 2016

Summary: Actress and writer Anne DeAcetis is a guest contributor for this episode, reading from her essay on Medium.com which lists five reasons why casting directors should happily play a part in the disappearance of casting director workshops. Host Ben Hauck shares introductory content that motivated Anne's piece -- namely, an article [ More ]
Topics: Anne DeAcetis, Casting Director Workshops, Casting Directors, Casting Society of America, Criminal Minds, Gary Baum, Networking, Pay-to-Play, Scott David, Workshop Committee, Workshops, Writer,
---
Recent Episodes
► Listen to this episode | Published: April 19, 2016

Summary: Host (and actor) Ben Hauck explains in detail why SAG-AFTRA actors should vote no on the proposed 2016 Commercials Contract. In the episode, Ben outlines some of the important losses SAG-AFTRA actors will experience should they ratify this contract negotiated recently between the union and commercial producers. [ More ]
Topics: Commercials Contract, Contracts, Joint Policy Committee, Negotiation, SAG-AFTRA, Session Fees, Use Fees, Voting,
---
► Listen to this episode | Published: November 18, 2015

Summary: Host Ben Hauck explains the responsibility that comes with producing a weekly podcast, and how that responsibility overlaps with his acting career.   The episode includes details on the goals he took on in starting the podcast, the kind of work involved in producing it, plus an [ More ]
Topics:
---
► Listen to this episode | Published: November 11, 2015

Summary: Mandy May Cheetham Actor Mandy May Cheetham speaks with host Ben Hauck on how to act in New York City -- with little to no income. In this interview, Mandy shares what motivated her temporary move to New York City from Toronto, Canada, and how she quadrupled [ More ]
Topics: Bartering, Canada, Coachsurfing, Finance, Health Insurance, Housing, Less Strasberg Theatre & Film Institute, Mandy May Cheetham, Networking, New York City, The Second City, Toronto, Upright Citizens Brigade Theatre, Visa,
---