AIP025 | How to Make Money Using Your Acting Skills as a Brand Ambassador – with Rachel Venokur
by Ben Hauck
September 9, 2015
0 comments
Rachel Venokur of Productions Plus–The Talent Shop talks with host Ben Hauck about using your skills as an actor to generate an income as a brand ambassador.  In the interview, Rachel explains what Productions Plus–The Talent Shop does and how it uses brand ambassadors for a wide range of events it staffs all around the country.  She goes into detail about what a brand ambassador does, what skills make for great brand ambassadors, what pay range a brand ambassador might expect, and how special skills or certifications may command a higher pay scale when working as a brand ambassador.  Rachel believes actors are well suited for working as brand ambassadors given their talent and training, and she describes some of the skills actors often bring to brand-ambassador work.  Rachel also shares how Productions Plus–The Talent Shop goes about staffing its events, which can range in time and commitment and which complement the lifestyle of an actor who is looking for flexible work.  Lastly, Rachel shares how someone may register with Productions Plus–The Talent Shop to potentially work as a brand ambassador.
☞ Listen to the Episode
Also available on: iTunes | Android | Stitcher | Soundcloud | TuneIn | YouTube | More …
☞ Mentions in This Episode
Episode Sponsor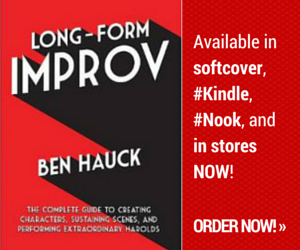 Long-Form Improv: The Complete Guide to Creating Characters, Sustaining Scenes, and Performing Extraordinary Harolds
Long-Form Improv deftly teaches the wildly popular form of improvisation that is so foundational to the comedy stylings of many of today's top actors and thriving comedians. Crammed with innovative ideas for conceptualizing improvised scenework and "finding the game of the scene," this crisply written manual covers techniques for experienced improvisers, curious actors, and even non-actors — even teaching the most famous expression of long-form improv, the half-hour improvised form known as "The Harold."
Students of acting and improv alike should expect Long-Form Improv to bolster their education and fast-track their course to improv greatness. To reserve your copy today, also available in Kindle and Nook, visit http://actingincome.com/lfi.
Rachel Venokur's Bio
Rachel Venokur works as a sales account manager for Productions Plus–The Talent Shop.  As a former actor herself, she recognizes the importance of having flexible side jobs as you're building your acting career.  Rachel believes that working as a brand ambassador can provide actors with a lucrative and flexible line of alternate work that draws deeply from their natural talents and skill set.
Productions Plus–The Talent Shop
You can register with Productions Plus–The Talent Shop on their website.  The following are some important links for Productions Plus–The Talent Shop.
Advertise
To sponsor a future episode of The Acting Income Podcast, get in touch here.
YouTube Version
☞ Conclusion
If you like what you hear, I invite you to post a quick rating and review of the podcast on iTunes. Doing so makes an important impact on the success and visibility of this podcast, which in turn has an impact on my success as an actor.
Thanks for listening!
Disclosure of Material Connection: Some of the links in the post above may be "affiliate links." This means if you click on the link and purchase the item, I will receive an affiliate commission. I only recommend products or services I use personally and/or believe will add value to my readers and listeners. I am disclosing this in accordance with the Federal Trade Commission's 16 CFR, Part 255: "Guides Concerning the Use of Endorsements and Testimonials in Advertising."