Ben Hauck
Editor, Acting Income | Host, Acting Income Podcast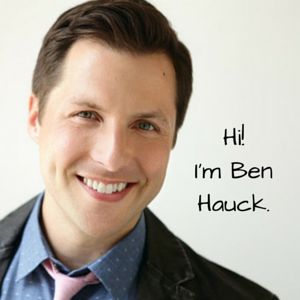 Hello!
First Off, Pronunciation —
It's spelled "Hauck," but it's pronounced [howk]. Pinch yourself. When you say, "Ow!," that's the vowel sound of my last name.
I don't make that big of a deal when people say it [hawk]. But it's [howk]!
Actor & Improviser
Primarily, I'm actor and improviser. I hold a Bachelor of Fine Arts in Acting from Otterbein, and I won the 2013 Emerging Artist Award for my trademark "improvised sermons" at the Unscripted New York Improvised Theatre & Film Festival.
My first television speaking role was on Law & Order. Cool, huh? I find the dead body.
More recently, I've done a lot of work as a stand-in for actors like Jason Bateman, Jason Sudeikis, Seth Rogen, Peter Facinelli, Seth Meyers, and John Oliver.
Author, You Say?
I wrote a book, too. I'm author of the book Long-Form Improv: The Complete Guide to Creating Characters, Sustaining Scenes, and Performing Extraordinary Harolds (Allworth Press, 2012). I've taught long-form improvisation internationally, having led long-form improv classes and performances in New York City, Toronto, and London.
You can pick up a copy of my book in Barnes & Noble stores, on Amazon, and it's also available in Kindle and Nook versions. It's available around the world really.
Webmaster!
In addition to handling Acting Income, I'm the editor of Stand-In Central, which is a website I founded in 2010 all about the job of the TV/film stand-in.
We even created a handbook on standing in — I hope you'll check it out!
Marathon Runner??
As a runner, I've finished over twelve marathons including the 2011 and 2013 Boston Marathons (I was unharmed). I live next door to Central Park in Manhattan and I never tire of training there.
My work schedule has been so extreme in recent years that doing something else extreme like marathon training has been way too hard. But I aspire to get marathoning again, or at very least being a regular runner.
Volunteer Work …
I also do some webmastering on a volunteer basis. Most of that is for the Institute of General Semantics, on whose board I also sit.
General semantics has been a big part of my life since college, and it's an honor to have played a role in its preservation.
And More I'm Sure!
I do a lot of other things, but that's what comes to mind. I keep busy — there's always something to do!
If you want a listing of some of my acting credits over the years, you can peruse my Internet Movie Database profile: http://imdb.me/benhauck.
You can find even more about me at my website, Ben Hauck online: http://benhauck.com.